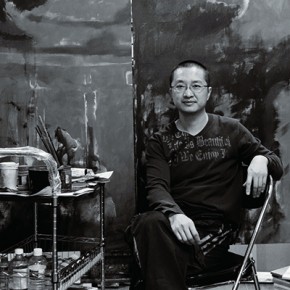 王恺
 七十年代出生于内蒙古包头市  现居北京
王恺,成长在大青山下的戈壁滩上,远方是鄂尔多斯高原的红色裂谷。他的创作灵感来自于这北方荒原上万物荣衰生生不息之迹。自2008年开始入驻环铁艺术区开始专一进行创作,作品以综合材料绘画、装置绘画为主,同时也有装置、行为等作品的呈现,行为作品「自缚」入选编入今日美术馆《2015中国行为艺术年鉴》。2015年入选上苑艺术馆国际驻馆创作计划,其间策划实施「七月流火-2015上苑艺术馆实验艺术展演」。
Wang Kai was bred up on the Gobi at the foot of Daqing Mountain, with a glimpse of the red rift on the Ordos Highland in the far. His art is inspired by the traces of booms and busts, life and growth in nature on the northern wasteland. He has been dedicated to art creation since his settlement at Huantie Art Zone in 2008. His works mainly include fabric art, installation art as well as representations in forms of installations, performance art. His performance art work titled "Self-bound" is compiled into 2015 Annals of Chinese Performance Art by Jinri Gallery. In 2015 he was chosen into the International Residency Program of Shangyuan Art Museum, during which he planned and executed "Late Summer Falling Star—2015 Shangyuan Art Museum Experimental Art Exhibition "
策划:
"少年,宋庄"少年维向系列展                              恩来美术馆宋庄北京
2015"七月流火"2015上苑艺术馆实验艺术展演                      上苑艺术馆北京
个展:
2011 临界-王恺个人作品展                                                 798宏艺术空间北京
2017 铁道北-王恺情景创作呈现展                  现场:乌素图呈现:各网络媒体
2019 线性的天籁——王恺作品展                                                           朴子艺舍北京
群展:
2019 独立品格提名展                                     全国巡展
2019 CIID设·绘艺术展                                                       雁儿湾美术馆 兰州
2018 净行第五回展                                                          上能艺术馆  北京
2018 光州双年展卫星展- 亚细亚国际交流展                 光州松美术馆韩国光州
2018 全南北京中韩艺术交流展                                              上能艺术馆  北京
2018 理想温度非具象艺术邀请展                                          上苑艺术馆  北京
2018 感知中国,意大利行-多彩中国微型艺术展         摩纳哥运河酒店意大利威尼斯
2017 意象世界多彩中国微型艺术国际大展                               汉威国际   北京
2017 左西右东-中/美优秀艺术作品大展                                   上海中心   上海
2017 中国-南亚东南亚国际美术展(纸上)                            昆明博物馆 昆明
2017 首届中和雅正绘画提名展                                                 西溪美术馆杭州
2017 上上国际美术馆十周年新年精品邀请展                    上上国际美术馆北京
2016 第二届独立品格提名展全国巡展                                 大河湾美术馆北京
2016 "但丁在中国"当代艺术展                                         北师大四季厅北京
2016 "少年,宋庄"少年维向系列展                              恩来美术馆宋庄北京
2016 左西右东-中美艺术家交流展                                          酒泉博物馆酒泉
2016 后视镜里的戏剧                                                              上苑艺术馆北京
2016 上上美术馆十周年之抽象魅力十人展                              上上美术馆北京
2016 "新启蒙"艺术与阅读跨界展                      国艺美术馆南京
2016 "万物生长"自然与人文系列四人展         798百策源艺术中心北京
2015 "灵性艺术"小微作品展                          上上美术馆北京
2015 上苑艺术馆2015国际创作计划年展                 上苑艺术馆北京
2015 "独立与关联"艺术展                    宋庄印象街艺术园区北京
2015 "纯白"艺术展                           798杨国际艺术中心北京
2015"七月流火"2015上苑艺术馆实验艺术展演           上苑艺术馆北京
2015 "美丽新世界"第二届南京国际美术展                 南京国展南京
2015 "安全与焦虑"王恺&马赛克装置作品展             上苑艺术馆北京
2015 "诗性之象"上苑艺术馆绘画作品展                  艺典中国网络
2015 国际文盟"从上苑到鸟巢"艺术展                鸟巢文化中心北京
2015"艺起来"保利十周年当代青锋艺术博览会            中国农展馆北京
2015 GO ART 艺术节                              北京环球金融中心北京
2015 上苑艺术馆国际创作计划艺术家呈现展              上苑艺术馆北京
2015 破/绽图画手工第六回                        偏锋新艺术空间北京
2015 "里仁为美"新世纪文化之源全国巡展              上上美术馆北京
2015 首届乌合全国青年艺术家作品展                    南岸美术馆上海
2014 "汇点"京津冀青年艺术家联展                    上上美术馆北京
2014 第二届亚洲青年艺术家提名展                    798时代空间
北京2014 "常态"当代艺术展                            大河湾美术馆北京
2014 "灵性的蜕变"梵尘当代艺术展                    宋庄慧空间北京
2014 北京基督教艺术展                            北京基督教两会北京
2014 中国新野性艺术30年回顾展                 琶洲国际展览中心广州
2014 中国新野性艺术邀请展第二季                      罗丹美术馆北京
2014 中国新野性艺术邀请展第一季                     罗丹美术馆
北京2014 内蒙古自治区第四届写生作品展              内蒙古美术馆呼和浩特
2014 建国65周年内蒙古美术作品展             内蒙古美术馆呼和浩特
2013 "艺术中国"精品回顾展                        易爵艺术中心北京
2012 "艺术中国"全国画展                              湖南大厦北京
2010 "艺术中国"全国油画展                       环铁时代美术馆北京
2010 世界和平艺术展                                八卦山禅艺廊台湾
出版(以下出版物收录艺术家介绍及作品):
{中国当代艺术文献} 湖南美术出版社
{首届乌合全国当代艺术展} 上海美术出版社
{北京基督教艺术展}北京基督教两会
{中国新野性艺术} 中国书画家出版社
{2010艺术中国} 中国青年出版社
{2012中国民航杂志}专版介绍
{多彩新世界-南京国际美术展}
{上层杂志2015第8期}专版
但丁在中国
中韩艺术家交流展画册
首届中和雅正绘画提名展中国美术出版社
2015 中国行为艺术年鉴
中国-南亚东南亚国际美展(纸上)云南出版集团
亚细亚艺术交流展  韩国松树美术集团
存在的荒原-2014-2018王恺作品集
出版物收录较多,不详列。
Wang Kai
Born in Baotou, Inner Mongolia, in the 1970s.
Graduated from Tianjin Arts and Crafts Vocational Academy, in the 1990s.
After Wang Kai's graduation, he undertook business planning, commercial innovation and graphic design. He was the art director of a 4A Joint Venture for years. From 2008, he moved from Beijing Huantie Art City, to Studio of Arts Creation & Show, Songzhuang, China in order to specifically undertake artistic creation. In 2015, he was the artist in residence at Shangyuan Art Museum, International Residence Section. His artistic creation spans multiple fields including graphic painting, calligraphy art, installation art, action art, and digital art. During his experience there, he created a new method of demonstration, which is a combination of painting and installation, and formed his own artistic language. "Existence Plan" is a personal long-term innovative plan, which he started in 2014.
Curation & Planning:
July • Flowing Fire, 2015 Shangyuan Art Museum, Experimental Display                            Shangyuan Art Museum, Beijing
Solo Exhibition:
2011 Critical Wang Kai Exhibition                             H•Art Center, 798 Art Zone, Beijing
Group Exhibition:
2016 Drama in The Rearview Mirror    Shangyuan Art Museum, Beijing
2016 Ten Artists Exhibition: The Charm of the Abstract,
The 10th Anniversary of Sunshine International Art Museum                             Sunshine International Art Museum, Beijing
2016 "The New Enlightenment" Cross-border Exhibition: The Art and Reading             Guoyi Art Museum, Nanjing
2016 "All Things Grow" Four Person Exhibition: The Series of Nature and Humanity   798 Baiceyuan Art Center, Beijing
2015 "Inspirational Art" Micro-Work Exhibition                                               Sunshine International Art Museum, Beijing
2015 The International Annual Creation Plan for Shangyuan Art Museum                         Shangyuan Art Museum, Beijing
2015 Art Exhibition: Independence and Dependence                    St. Yinxiang, Studio of Arts Creation & Show, Songzhuang, China
2015 Art Exhibition: "Pure White"                       798 Yang Gallery, Beijing
2015 July • Flowing Fire, 2015 Shangyuan Art Museum, Experimental Display               Shangyuan Art Museum, Beijing
2015 "A Beautiful New World" The 2nd Nanjing International Art Festival            Nanjing International Exhibition Center, Nanjing
2015 "Safety and Anxiety" Wang Kai & Christopher Pelley (Mosaic) Installation Exhibition         Shangyuan Art Museum, Beijing
2015 "The Image of the Poetical" Painting Exhibition of Shangyuan Art Museum

2015 International Network of Literature and Art Exhibition"From Shangyuan Art Museum to The Bird's Nest"
              Beijing National Stadium, The Bird's Nest Cultural Center, Beijing
2015 Poly "Art Up" International Art Fair                                  National Agricultural Exhibition Center
2015 "Go Art" Art Festival                                            The World Financial Center (WFC), Beijing
2015 Shangyuan Art Museum International Artists Exhibition                        Shangyuan Art Museum, Beijing
_____________________
2015 Broken•Bloom, The 6th Edition, Painting and Handicraft                 Pifo Gallery, Beijing
2015 New Century, Cultural Origins: "Liren is Aesthetics (Liren Wei Mei)" National Itinerant Exhibition
        Sunshine International Art Museum, Beijing
2015 The 1st National Rabble Exhibition for Contemporary Art                                    Shanghai Nan'an Art Gallery
2014 A Joint Point: the Young Artist Joint Exhibition of Beijing, Tianjin and Hebei      Sunshine International Art Museum, Beijing
2014 The 2nd Exhibition for Nominated Young Artists in Asia                                        798 Times Space, Beijing
2014 "Normalcy" Modern Art Exhibition DHW Art Museum, Beijing
2014 "Wit Transformation" Fanchen Modern Art Exhibition Hui Space                 Studio of Arts Creation & Show, Songzhuang, China
2014 Beijing Christian Art Exhibition                                                                 Two Committees of Christian in Beijing
2014 China New Wild Art, 30 Years Retrospective Exhibition              Guangzhou International Convention & Exhibition Center
2014 China New Wild Art, Invitation Exhibition, Season Two              Luodan International Art Gallery, Beijing
2014 China New Wild Art, Invitation Exhibition, Season One              Luodan International Art Gallery, Beijing
2014 The 4th Life Drawing Exhibition of the Inner Mongolia Autonomous Region Inner Mongolia Art Gallery Hohhot
2014 The 65th Anniversary of the birth of P.R. China, Fine Arts Exhibition in the Inner Mongolia Autonomous Region                                                                                         Inner Mongolia Art Gallery Hohhot
2013 "Art China" Retrospective Exhibition of Fine Works Yijue Art Center, Beijing
2012 "Art China" National Painting Exhibition Hu'nan Hotel
2010 "Art China" National Oil Painting Exhibition Huantie Times Art Museum, Beijing
2010 The World Peace Art Exhibition                                  Bagua Zen Art Gallary, Taiwan
Important Events:
2015 Curated July • Flowing Fire, 2015 Shangyuan Art Museum, Experimental Display
2015 Work named "Existence Plan" Was selected for the 2nd Nanjing International Art Festival
2015 Was selected for the Artist Residency at Shangyuan Art Museum, International Residence
2014 Became member of the China New Wild Life Group
2010 Work named "Gather or Dissipate" was selected for the "Art China" National Oil Painting Exhibition
Publications (All the following publications include the introductions and works of Wang Kai )
Chinese Contemporary Art Documentation Hu'nan Fine Arts Publishing House
The 1st National "Rabble" Exhibition for Contemporary Art                 Shanghai People's Fine Arts Publishing House
Beijing Christian Art Exhibition                                                              Two Committees of Christian in Beijing
New Wild Life of Chinese Contemporary Art                                          Chinese Painting and Calligraphy Press
2010 Art China                                   China Youth Publishing Group
2012 CAAC Insight Magazine Special Introduction Edition
Nanjing International Art Festival: The Colorful World
iLife Magazine Special Edition, featured in the 8th Edition in 2015
Public Collection:
Sunshine International Art Museum, Beijing
Huantie Times Art Museum, Beijing
Shangyuan Art Museum, Beijing